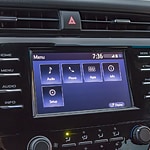 Do you like to have control over your everyday trips in Billings, MT? We understand — that's why we so heartily recommend the Toyota Camry. With its thoughtful engineering features, this popular midsize sedan helps you design a comfortable ride.
At Lithia Toyota of Billings, we know that no two trips are the same. That's why the Camry is available with three different drive modes. When you want to save gas, choose ECO Mode; if you're in the mood for a fun, dynamic trip, switch into Sport Mode. For everyday trips, Normal Mode offers an easy blend of performance and fuel-efficiency.
To help the Camry adapt to demanding conditions in the rain or snow, add on the available torque-control all-wheel drive. This system tracks the front wheel-slip and automatically changes the rear torque to give you the best traction. Visit us for a test drive in the Toyota Camry to see how it feels in action.